Thank you for coming to our BIG 5 Heavy 2019 participation and workshops
Thank you for coming to our BIG 5 Heavy 2019 participation and workshops
The Big 5 is the largest construction exhibition for the Middle East, Asia and Africa, attracting 68,000+ high-level buyers, suppliers and experts from across the entire construction cycle, from inception to completion. The Big 5 offers a comprehensive program of high-level education workshops, networking features, and business and sales opportunities under one roof.
Location Solutions booth served as a host for several other brands, Cango, Continental, and Hectronic whose products impacted the construction industry from the telematics perspective globally. This concept turned our booth into a one-stop-shop for those whose demands can only be covered by several products 
Visitors who stopped by the spot viewed live updates on Location Solutions Applications and were able to speak to our experts in detail to get all their questions answered. They were also able to discuss in depth the monitoring and advanced tracking devices that were on display from Cango, Hectronic, and Continental and speak to representatives from the brands in person. The booth became a great spot for media professionals to gather information covering many aspects related to construction from all participants.
As the exhibition went on, workshops and technical sessions were held in parallel with it. Location Solutions team took an effective part in these sessions by offering insights on the Importance of Digital Apps in construction under Technical Seminars by Mr. Charles Azrak, General Manager, during which he introduced several Location Solutions apps for construction, Readymix tracking and diesel management, explained their operations logic, and emphasized the importance of motivational schemes for drivers and operators. These schemes are all based on the BIG DATA and collateral analytics from other products and are also wrapped into gamification apps, used by drivers for scoring, and by fleet managers to introduce better practices among their operators.
More from our active participation in the discussions, Our Founder and CEO, Mr Zaim Alazrak, spoke within the Geospatial Forum under the topic of Data as a Unique Selling Proposition in Fleet Management. He discussed various sources of data from fleet management, ERP, and mapping providers and the importance of collaborations in the region to unify the approach. In construction, project accounting and data consolidation are the important factors, that give a complete overview to the Project owners over the time spent, hours wasted, and the total costs for each element of the project (asset, vehicle, labor workers. designers and PMs).
Ahead of Expo2020, we need these analytics to stay ahead of the game, which is why collaborations between the data owners and data providers are paramount.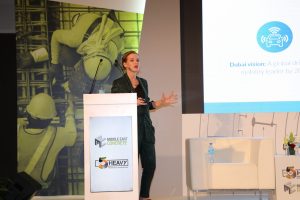 More from our team during the Geospatial Forum, was Our Brand and Business Manager, Ms. Volha Smirnova's, speech which discussed The Potential of Big Data in Construction and Geospatial Analysis. Ms. Volha spoke about the importance of AI and the IoT and how that translates into construction. What are the moving pillars of progress in the region, and what is the effect of technologies when it comes to the industry? The role of telematics systems, and the areas of potential improvement. She offered some of the statistical data regarding the construction sites, outlined the areas of importance, and offered solutions to mitigate the risks and improve decision making in this regard