Mixologic: Presented to you by Location Solutions
Mixologic: Presented to you by Location Solutions
Ready Mix Cycle Management application gives full concrete cycle visibility from collecting to dispatching. The program regulates vehicle count, allocates assets on-site, and tracks drivers and provides cost estimates when it comes to project management. 
With the region's ambitions towards groundbreaking economic development, increased solid demand for concrete continues to increase even during times of Covid19 as construction never truly stops.
Saudi Arabia alone is the largest ready mix concrete market within the region, given it accounts for more than half of the GCC's construction projects, valued at more than $1 trillion by 2019. With such numbers, it is crucial for the concrete industry to capture the latest and most efficient technologies as it is the backbone for construction! 
Improved and supported by Location Solutions, this platform ensures all steps of concrete handling are accurately measured as well as monitored, and with its useful history tracks, it will ease the process of decision making when it comes to bettering your operations. The platform provides an information hub in regards to engine working hours and delicately measures idling time even in machines like concrete pumps. It also provides accurate readings of live location allowing the management to view where and when stops and drives are taking place.
Mixologic is being used by many, but maybe RMB's use of the platform is the most prominent. RMB has been utilizing GPS tracking services as well as fuel monitoring among other features and has had significant positive results according to their General Manager Mr. Tim Senior
"For almost 20 years our Company's operations were based on traditional supply techniques. With the implementation of Location Solutions GPS software and fuel monitoring system we now study in detail each of the 100,000+ deliveries which our Company supplies per year to our valued customers. RMB Readymix now uses the platform throughout various departments on a daily basis to ease and simplify our operational activities. Major cost savings have been achieved by reducing the vehicle idling time and from avoiding deviations off route." – Tim Senior, GM at RMB
What are the prominent features in this platform that will add value to your operations?
Home Screen: 
The Home Screen exists in this platform to regulate and share information about your fleet for you to easily access and comprehend. It includes elements that put your operations in figures and numbers which eases the way for you to change, eliminate, and enhance activities.
For example:
Average cycle time: the system organizes the data collected from the fleet and adds up the load, in route, and discharge times to calculate the average cycle each vehicle spends time on. This helps formulate an idea regarding the amount of work each vehicle and operator does and highlights room for improvement. 
Plant Idling Time Per Trip/ Per Mixer: here, idling hours are highlighted for you to understand the time that could be utilized for work or for rest.
Delivery outside the predefined area: here, geofences would already be in place to eliminate wasting time outside of designated areas and discharge in unauthorized locations.
Operational Panel:  Through a simple tape, the journey of every vehicle is illustrated for you to clarify the time spent in every step starting from Loading and ending with Back to Site. This feature signifies the long hours in every step making it easier to figure out the time wasted on certain tasks. It also helps closely monitor every vehicle's journey and assure that it is being handled properly by its operator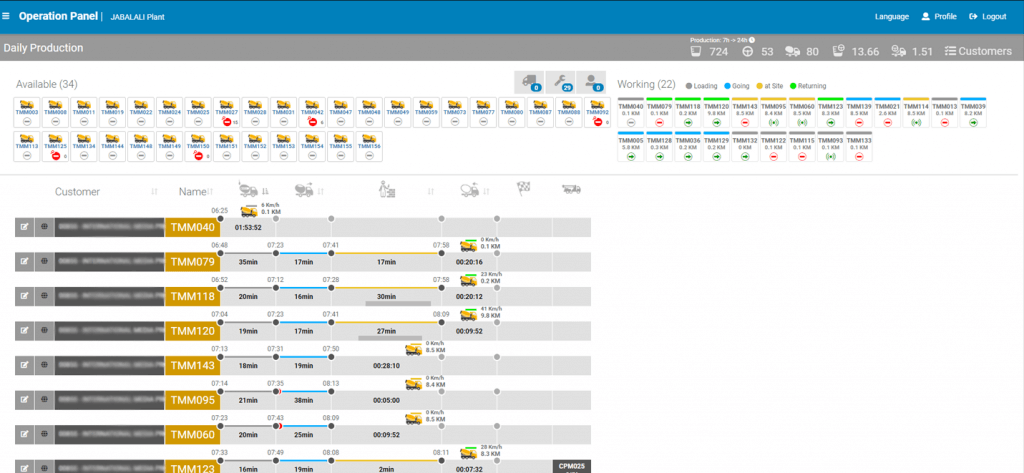 Data Analysis: With the option to group data according to whichever element that is needed: mixers, plants, clients, or drivers, the user is able to extract detailed data per trip for the entire trip.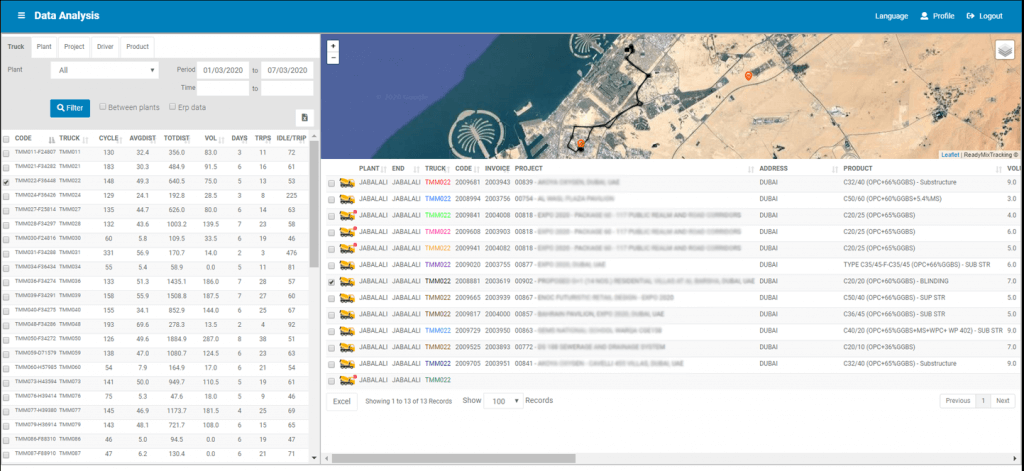 Idling Information: Whether the driver is turning on the vehicle inside or outside the designated plant, using the machine or keeping it on standby… all this information is available for every single vehicle regardless of how big the fleet is. 
You can see below the idling information for every vehicle in the fleet with work hours and driving hours highlighted separately before the use of Mixologic platform on the fleet.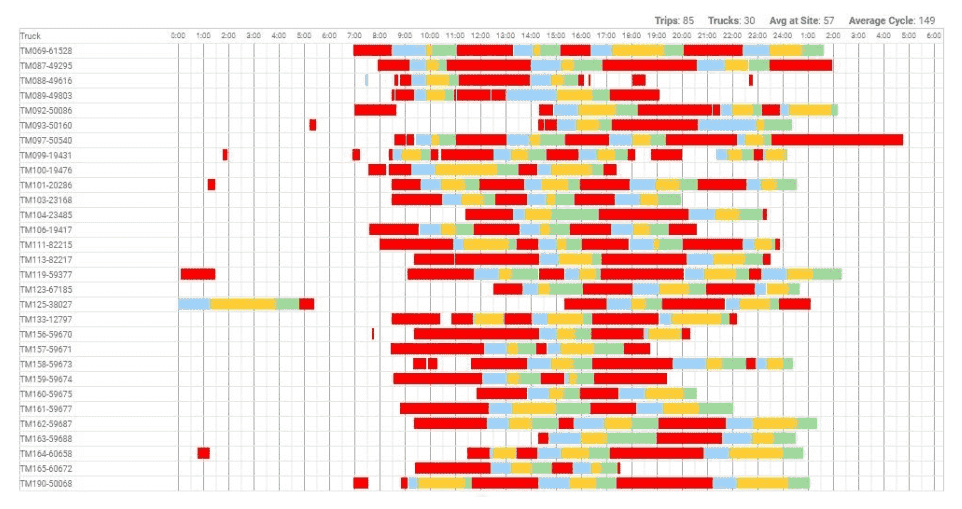 After Mixologic was implemented and control was taken, you can see below the idling info and the significant changes that took place.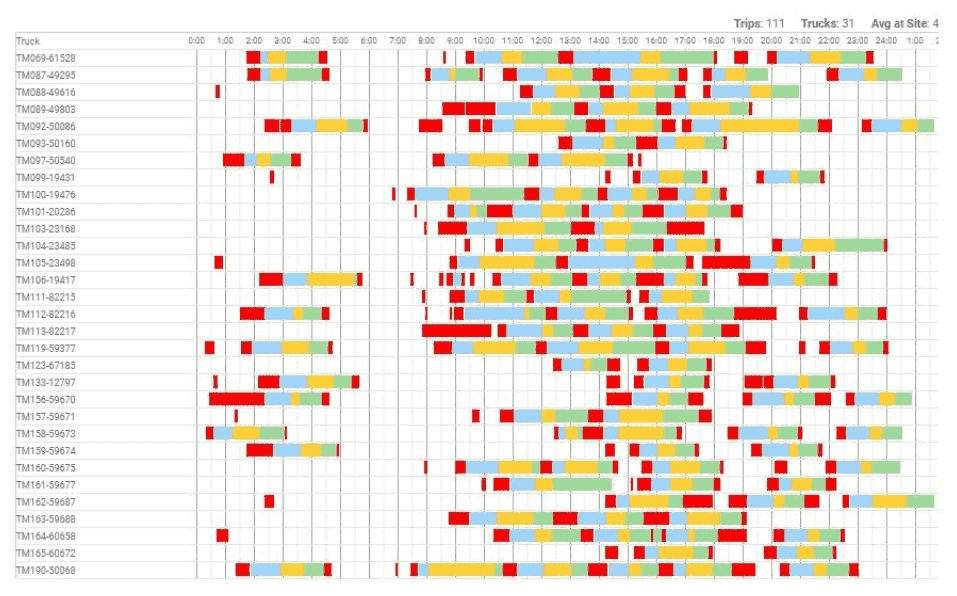 The platform comes with a mobile phone friendly application that allows all your data to easily be accessed by you in the palm of your hands!
The phone application transmits higher security to the clients and shows real-time deliveries as well as the routes and much more.
Location Solutions looks out for you and continues to put your data ahead of the curve! Call us now to learn more about Mixologic.